and here's the story about the 2nd event of the season:
402 Street Race - Belgrade (SRB) - 12-13/May/07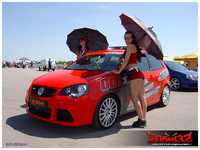 DAY 1:
- in the 1st round of qualifications, we were lined up with Honda Civic and then
in the 2nd round we ran against an BMW E30 with an M5 engine. we qualified
to race in 14 secs class.
- the 1st round of the race was against a Suzuki Maruti with mid-mounted engine
and it was an easy win for the 205 Mi32.
- the 2nd round was against an Opel Kadett with C20LET turbo engine - a comfortable
win again.
- the 3rd round was against a tuned Civic Type-R - another easy win, but father was
a 10th of a second quicker than he should have so he broke into 13 secs class.
- after breaking into 13 secs class, the 1st round was against a Porsche 911 of
some sort (40 years edition). i thought this was going to be very tight but the
Porsche ate the dust! The crowd loved it and i was "going through the roof"!
- the 2nd round was against an old 7-series BMW with a tuned 3.5 turbo engine
and dual Nitrous system. the BMW won and he was really lucky too - only .004
of a second faster and he would have broken into 12 secs class (which would
leave us as a winner in this race).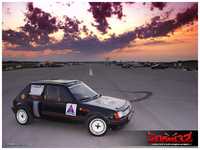 DAY 2:
1st round of qualifying - two cars, four engines :-D. the twin-engined Golf has yet
again been the only car in 11 secs class, the previous day. 2nd round was against
an Opel Corsa with mid-mounted tuned Audi 2.7 bi-turbo engine and Nitrous, winner
of 12 secs class the previous day. we decided to qualify straight for the 13 secs
class this time as we'd probably end up in 13 secs class sooner or later anyway.
the 1st round of racing was against a 282 bhp Honda Civic (the 13 secs class winner
the preivous day), which wasn't too bad due to the fact that the 205 Mi32 had a nice
lead in 1st and 2nd gear, until my father selected 5th instead of 3rd... :-(
that was the early end of the day two but still, we were very sattisfied with the
car's performance (more than the driver's anyway ;-)) - it managed 13.192 secs ET
on saturday (and i'm sure i've seen 12.8xx too, but that has been edited later?!).
anyway, we are planing to definitely break into 12's on the next race that should
have taken place this weekend but it was postponed for 3 weeks due to bad weather.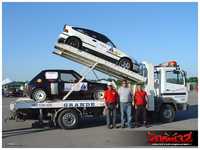 you can see the full picture story (with 66 pics) on
THIS PAGE
.
video of 205 Mi32 @ 402SR Belgrade coming very soon!
thanks.